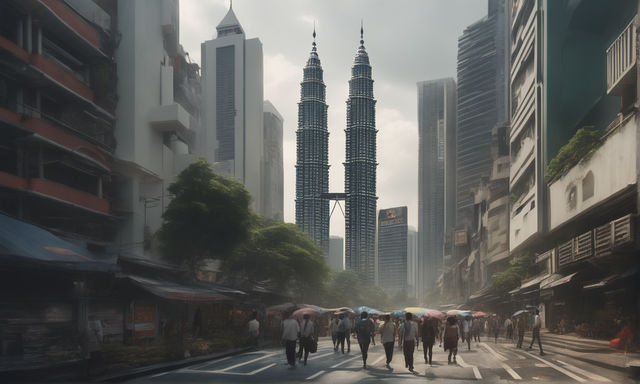 The prospect of moving to Malaysia has become increasingly popular among expatriates. With its affordable living costs, modern infrastructures, and vibrant multicultural community, Malaysia offers attractive opportunities for those considering immigration. To make your relocation smooth, you'll need to familiarize yourself with Malaysia's visa requirements, as well as the logistics of relocating to Malaysia and assimilating into the local community. It's crucial to enlist the help of international moving services and a reputable moving company in Malaysia to ensure an efficient process and a successful transition.
Malaysia's Appeal to Expats
Expatriates are attracted to Malaysia for various reasons, including its affordability, high quality of life, and welcoming community. Judging by the cost of living in Malaysia, the expenses for a single person amount to approximately €500 per month, making Malaysia a cost-effective option compared to other destinations. The country's world-ranked healthcare system, improving infrastructure, and year-round tropical climate further contribute to its appeal. However, prospective malaysia expats should be aware of potential challenges such as air pollution and traffic.
| Metric | Average Cost |
| --- | --- |
| Living expenses for a single person | €500 per month |
| Housing (rent) | €150 – €1,100 per month |
Another crucial aspect of living in Malaysia is navigating the local language. English is widely spoken, but the government expects expatriates seeking permanent residence to be proficient in the Malay language. Additionally, Malaysia does not permit dual citizenship, so individuals seeking permanent residence must relinquish their other nationalities.
As you prepare for your expat life in Malaysia, here are some essential tips to ensure a smooth relocation:
Research the different regions of Malaysia to find a location that best suits your lifestyle and career needs.
Consult online forums and expatriate communities to get insider advice on relocating to Malaysia.
Prepare for the visa application process by gathering necessary documentation and seeking advice from immigration experts or the Malaysian embassy.
Set a realistic budget for your move, factoring in housing costs, living expenses, and potential challenges like air pollution and traffic.
Learn Malay to enhance cultural immersion and improve your chances of securing permanent residency.
Visa and Long-Stay Requirements
Malaysia offers a variety of visas catering to the specific needs of expatriates, including work, study, and retirement visas. Employment passes facilitate skilled professionals to work in Malaysia, while dependent passes enable family reunification. For academics, Malaysian educational institutions accept international students through the Malaysia student pass and i-Kad, with a prior requirement of an Approval Letter. The Malaysia My Second Home (MM2H) program facilitates retirement with numerous advantages such as the possibility of employment for up to 20 hours weekly.
Types of Malaysian Visas for Expatriates
There are several types of Malaysian visas that expatriates can obtain depending on their purpose of stay:
Employment Pass: For skilled professionals working in Malaysia
Temporary Employment Pass: For foreign workers in specific sectors
Professional Visit Pass: For individuals temporarily providing services in Malaysia
Malaysia Dependent Pass: For the spouse and children of Employment Pass holders
Malaysia Student Visa: For international students studying in Malaysia
Malaysia My Second Home (MM2H) Program: For retirees and other long-term stays
Immigration Process
The immigration process in Malaysia involves obtaining permission to stay for work, study, or retirement through the appropriate Malaysian visa or pass. Expatriates must acquire a visa with reference and comply with the varying policies across Malaysia's regions. Visa-free entry for specific durations is available for certain nationalities, while longer stays necessitate a pass detailing the conditions of residence. The Malaysian Representative Office serves as a point of contact for all visa-related inquiries and applications, and immigrants must be aware that approvals for Peninsular Malaysia do not automatically confer access to Eastern Malaysian states.
Housing Options and Costs
As you prepare for your relocation to Malaysia, finding the right home is an essential step. The housing market in Malaysia offers various accommodation options to suit your needs and preferences, with Malaysia living costs that are often more affordable than in other countries.
Kuala Lumpur, Malaysia's capital, is an attractive destination for expats looking for a bustling urban environment. For those interested in industrial and commercial sectors, Johor Bahru and George Town are popular choices. Alternatively, UNESCO heritage sites like Penang and Malacca ooze rich cultural landscapes and have a strong appeal for foreign residents.
Searching for housing in Malaysia involves exploring online listings, visiting properties in person, and engaging in negotiations. To assist you in your search, we've compiled a list of housing options and their respective average rental prices.
| Location | Apartment Type | Average Monthly Rent (MYR) |
| --- | --- | --- |
| Kuala Lumpur | One-bedroom city center | 1,800 |
| Kuala Lumpur | One-bedroom outside city center | 1,000 |
| Johor Bahru | One-bedroom city center | 1,000 |
| Johor Bahru | One-bedroom outside city center | 600 |
| George Town | One-bedroom city center | 1,200 |
| George Town | One-bedroom outside city center | 800 |
| Penang | One-bedroom city center | 1,500 |
| Penang | One-bedroom outside city center | 900 |
| Malacca | One-bedroom city center | 1,100 |
| Malacca | One-bedroom outside city center | 700 |
When securing a place to live, it is crucial to familiarize yourself with Malaysian rental contracts' standard terms. These may include a security deposit, advance rental payment, and additional fees for utilities and maintenance. Additionally, some properties in Malaysia are already furnished, which might impact rental prices.
With a myriad of housing options and a vibrant expat community, Malaysia is an excellent choice for relocation. As you explore your options, keep in mind the local culture, available amenities, and the proximity to your workplace or educational institution when selecting your new home. Good luck with your housing search in Malaysia!
Employment Opportunities and Work Visas
As Malaysia's economy continues to grow, the appeal of the country for expats in search of employment opportunities has increased. Cities like Kuala Lumpur, Penang, and Johor Bahru offer significant cultural experiences, financial opportunities, and economic support for expats. Furthermore, these cities are prominent hubs for various industrial and commercial sectors. If you are considering moving to Malaysia for work, it's important to note that non-citizens must apply for appropriate work visas, such as employment passes or professional visitor's passes, before seeking employment. This is subject to approval by Malaysia's immigration authorities.
Kuala Lumpur: Malaysia's capital city offers a diverse range of cultural, financial, and economic experiences for expats. The city is considered a major expat destination and provides various job opportunities across multiple industries.
Penang: Known for its beautiful beaches and rich historical heritage, Penang is a thriving commercial and industrial hub. Expats seeking opportunities in these sectors can find a multitude of options available here.
Johor Bahru: Situated near Singapore, Johor Bahru is a strategic location for industries, offering many employment options for expats involved in trade and commerce.
Obtaining the right work visa is crucial when making the move to Malaysia for work. The type of visa required depends on the nature of your employment and is subject to approval by the immigration authorities. Below is a table outlining work visas and passes available to non-citizens:
| Work Visa/Pass | Description | Eligibility |
| --- | --- | --- |
| Employment Pass (EP) | A visa granted to skilled foreign professionals working in Malaysia. | Applicants must have a valid job offer from a Malaysian employer and meet specific academic and salary requirements. |
| Temporary Employment Pass (TEP) | A visa granted to those employed in semi-skilled or unskilled positions, often for short-term contracts. | Applicants must have a valid job offer from a Malaysian employer and meet specific requirements set by immigration authorities. |
| Professional Visit Pass (PVP) | Reserved for individuals being employed in Malaysia on a temporary basis, usually for training, consultancy, or other professional services. | Applicants must have a valid job offer from a Malaysian employer and provide documentation detailing the purpose and length of the professional visit. |
By familiarizing yourself with employment opportunities across Malaysia's major cities and understanding the work visa requirements, you'll be better prepared for a smooth transition when moving to Malaysia for work.
Malaysian Culture and Community
Expatriates relocating to Malaysia can anticipate an enriching cultural experience that offers a harmonious blend of Malay, Chinese, and Indian influences. This cultural fusion is evident in the country's varied culinary offerings, festive celebrations, and community interactions. The Malaysian lifestyle is known for being vibrant and engaging, with numerous cultural events spanning the entire year that welcome foreign participation.
As you settle into your new home, understanding the culture in Malaysia is vital for smooth integration and establishing meaningful connections within your community. Fortunately, almost all Malaysians speak English, fostering easy communication between you and your local neighbors.
Considering Malaysia's diversity, it is essential to familiarize yourself with the various customs and etiquettes followed by the different communities in community living Malaysia. Below are some crucial aspects of Malaysian culture to help ease your transition.
Religion: Malaysia is a multi-religious society, with Islam being the dominant faith. Other widely practiced religions include Buddhism, Christianity, and Hinduism. It is essential to be respectful of different religious practices, customs, and places of worship.
Social etiquette: Malaysians typically greet each other with a salam, where they touch their hearts after shaking hands. It is crucial to show respect across all social interactions, which includes using appropriate titles, dressing modestly, avoiding confrontational behavior, and respecting personal space.
Food: Malaysian cuisine is diverse and flavorful, reflecting the multicultural society. Some popular dishes include nasi lemak, laksa, roti canai, and satay. Learning to use chopsticks can enhance your dining experience when indulging in local delicacies.
Festivals: Malaysia boasts numerous cultural events such as Chinese New Year, Hari Raya Aidilfitri, Deepavali, and Christmas. Participation in these festivities can provide a deeper understanding of the various cultural influences within the country and aid in building connections with local communities.
Beyond culture, the key to successfully integrating into Malaysian society is understanding the importance they place on relationships and community values. Engaging in community living Malaysia is an integral aspect of embracing your new life and can lay the foundation for long-lasting friendships and networks.
Education and Student Visa Essentials in Malaysia
For those pursuing education in Malaysia, the country offers an accessible process to obtain a Malaysia student visa and a plethora of esteemed educational institutions to choose from. As a foreign student, you must first receive an Approval Letter confirming your acceptance by a local institution, which is necessary for your legal stay throughout your academic journey. The pre-approval process varies depending on your country of origin, and some students may also need an entry visa.
Choosing the Right Educational Institution
Selecting the appropriate educational institution is a crucial step, as it directly affects your eligibility for the Malaysia student pass and i-Kad. To enhance your chances of success, it's essential to evaluate accredited institutions that fit your desired field of study and fulfill the necessary entry requirements.
Malaysia has a diverse selection of educational options, including:
Public and private universities
Foreign university branch campuses
Private colleges
Technical and vocational institutions
Based on factors such as academic reputation, research capacity, and employability of graduates, here are some notable institutions in Malaysia:
University of Malaya
Universiti Putra Malaysia
Universiti Kebangsaan Malaysia
Universiti Sains Malaysia
Universiti Teknologi Malaysia
Malaysia Student Visa Process
Once you've gained acceptance from a Malaysian institution, it's crucial to navigate the student visa process to ensure a smooth transition to your new academic adventure.
The process typically involves:
Receiving your Approval Letter from the institution
Applying for a Single Entry Visa from your home country, if applicable
Arriving in Malaysia and obtaining your Student Pass
Registering for the i-Kad (a compulsory identification card for international students)
| Documents | Description |
| --- | --- |
| Approval Letter | A letter issued by the educational institution confirming your acceptance |
| Single Entry Visa | Visa for students from countries requiring an entry visa, obtained before arrival |
| Student Pass | A document permitting your stay in Malaysia for educational pursuits, obtained upon arrival |
| i-Kad | An identification card mandatory for all international students in Malaysia |
While the process may seem intricate, with proper planning and attention to detail, pursuing your education in Malaysia can become a reality. An enriching international student life awaits those who successfully navigate the student visa process and secure placement in a suitable educational institution.
Retirement in Malaysia: The MM2H Program
The Malaysia My Second Home (MM2H) program is an ideal choice for individuals who wish to retire in Malaysia. It offers a multitude of attractive retirement benefits, including a 10-year renewable retirement visa. Applicants must meet certain financial criteria, such as fixed deposit placements, which differ based on age. This program provides various incentives such as withdrawal options for property purchase, education, and medical insurance, making it an appealing retirement option.
The Sarawak-specific S-MM2H program is an alternative for retirees interested in residing in both Peninsular and East Malaysia. This program comes with its unique set of benefits. Here's a breakdown of the differences between the MM2H and S-MM2H programs and their respective financial requirements:
| | MM2H | S-MM2H |
| --- | --- | --- |
| Fixed Deposit Placement* | Age < 50: RM300,000 (USD 72,112) Age ≥ 50: RM150,000 (USD 36,056) | Age < 50: RM150,000 (USD 36,056) Age ≥ 50: RM100,000 (USD 24,037) |
| Monthly Offshore Income | Age < 50: RM10,000 (USD 2,404) Age ≥ 50: RM10,000 (USD 2,404) | Age < 50: RM7,000 (USD 1,682) Age ≥ 50: RM7,000 (USD 1,682) |
| Eligibility for Property Purchase | Minimum RM1,000,000 (USD 240,370) per property | Minimum RM300,000 (USD 72,112) per property |
*Partial withdrawal of the fixed deposit is allowed for specific purposes, such as education, property purchase, and healthcare.
Upon submission of the required documents and meeting all eligibility criteria, applicants will receive a conditional approval letter from the Immigration Department of Malaysia. This letter permits the applicant to complete the remaining steps, such as obtaining health insurance and the security clearance, before receiving the official MM2H visa.
Health insurance: All applicants are required to acquire a valid Malaysian medical insurance policy appropriate for their age and medical conditions.
Security clearance: Applicants must pass a security clearance conducted by the Royal Malaysian Police. This process involves assessing the applicant's criminal record, if any, in their home country.
Visa endorsement: Upon successful completion of the security clearance and obtaining health insurance, applicants can receive their MM2H visa endorsement, granting them the retirement visa.
Considering the numerous retirement benefits and long-term security, the MM2H program serves as a premier plan for retirees seeking an affordable and fulfilling retirement experience in Malaysia.
Healthcare System in Malaysia
Malaysia's healthcare system has gained a strong reputation for offering quality services in both the public and private sectors. As an expatriate planning to move to Malaysia, it is essential to understand and navigate this healthcare system, equipping yourself with necessary immunizations and knowledge of tropical diseases.
Public and Private Healthcare
Malaysia boasts a comprehensive healthcare system with two distinct branches: public and private. Public healthcare in Malaysia is highly subsidized by the government and offers affordable services to both citizens and residents. However, the public sector may see long waiting times and limited choices for specialized treatments. Alternatively, the private healthcare sector caters primarily to those with medical insurance coverage, providing high-quality care, modern facilities, and shorter waiting times.
Immunizations and Vaccinations
Before relocating to Malaysia, ensure that you and your family have received all standard vaccinations and immunizations. Recommended vaccinations include:
Hepatitis A and B
Tetanus, diphtheria, pertussis (Tdap)
Measles, mumps, rubella (MMR)
Polio
Varicella (chickenpox)
In addition to the standard vaccinations, consider obtaining vaccinations against rabies and typhoid as a precautionary measure.
Tropical Diseases and Prevention
Malaysia experiences a range of tropical diseases, such as malaria and dengue fever. As a precaution, familiarize yourself with preventive measures to minimize the risks of contracting these infections. Some recommended strategies include:
Using insect repellent containing DEET or picaridin
Wearing long sleeves and pants to prevent mosquito bites
Staying in air-conditioned or well-screened rooms
Using bed nets treated with permethrin
Discuss the risks and preventive measures with your healthcare provider before your relocation to ensure optimal protection.
Medical Insurance in Malaysia
Expatriates are advised to obtain comprehensive medical insurance while living in Malaysia to access private healthcare facilities offering quality care and shorter waiting times. Research different insurance providers and select a plan that meets your budget, coverage preferences, and specialized needs, such as pre-existing conditions or maternity coverage. Additionally, consider insurance plans that include coverage for medical evacuation in case of an emergency.
Relocation Challenges: What to Expect
While Malaysia offers many benefits to expatriates, relocating individuals must prepare for challenges like air pollution and traffic, which can impact daily life. In this section, we will discuss potential obstacles expats might face in Malaysia and strategies to address them.
Handling Air Pollution and Traffic in Malaysia
Air pollution in Malaysia is a significant concern, primarily due to emissions from vehicles and industry. It leads to health hazards and poor air quality, especially in urban areas. Additionally, traffic in Malaysia can pose challenges to newcomers. Road safety concerns may lead to demanding driving experiences. Expats should exercise caution while navigating Malaysia's roads, considering alternative means of transportation like public transit systems or carpooling.
Air pollution: Familiarize yourself with the Air Pollutant Index (API) system, serving as a daily indicator of air quality. Staying informed can help you make informed choices for outdoor activities and whether to use air purifiers at home.
Traffic: Allow sufficient time to reach your destination and avoid peak-hour traffic when possible. Adhere to traffic rules and stay alert to ensure a safe driving experience.
Importing Personal Belongings and Household Goods
Moving to Malaysia involves complying with the requirements set by the Malaysian Customs Department regarding importing personal belongings and household goods. Imported items must be owned and used for at least three months before the move and not disposed of shortly after importation. The Customs Department imposes restrictions and regulations on the quantity and types of personal effects allowed.
| Category | Requirement |
| --- | --- |
| Ownership | Owned and used items for at least three months prior to relocation |
| Prohibited Items | Narcotics, weapons, gambling equipment, and counterfeit goods |
| Electronics and appliances | Duties and taxes may apply. Check regulations for allowable quantity and specifications |
| Vehicles | Restrictions on types allowed for import, duties, and taxes. Check specific regional policies |
By acquainting yourself with Malaysia's air pollution, traffic conditions, and import regulations, you can confidently overcome these relocation challenges and enjoy a smooth transition to your new home.
Bringing Family and Pets to Your New Malaysian Home
Moving to Malaysia presents an exciting opportunity for you and your family. To ensure a seamless transition, it's essential to be aware of the necessary steps to bring your family members and pets along. Expatriates can apply for dependent passes for their spouses and children under the age of 21, allowing them to join you in Malaysia and share in the experience of living in this diverse country.
When it comes to moving with pets, understanding Malaysia's pet import regulations is crucial for a hassle-free relocation. Not all pet breeds are allowed in Malaysia, so it's necessary to research if your pet is permitted before making any plans. To import your pets, you'll need to ensure they are microchipped, up to date on rabies vaccinations, and possess a valid veterinary health certificate. Be prepared for the possibility of a quarantine period upon arrival, depending on the country your pet is coming from.
Service and support animals may be exempt from quarantine requirements, provided all necessary documentation is in order. By being prepared and informed about the processes for bringing family and pets to Malaysia, you can ensure a smooth journey and a positive start to your new life in this captivating country.
###
What are the pros and cons of moving to Malaysia?
Moving to Malaysia offers a diverse culture, beautiful landscapes, and a relatively affordable cost of living. However, the country also has tropical weather, high humidity, and occasional monsoon seasons.
What are some tips for living in Malaysia?
It's essential to familiarize yourself with the local customs and etiquette, learn a bit of Bahasa Malaysia, and be prepared for the multicultural environment in cities like Kuala Lumpur and Penang.
How do I obtain a work permit in Malaysia?
To work in Malaysia, you'll need to apply for a work permit through the Malaysian government. This involves meeting specific requirements and providing the necessary documents.
What are the main cities in Malaysia where expats tend to relocate?
Expats in Malaysia often relocate to major cities such as Kuala Lumpur, Penang, Johor Bahru, and George Town due to the lively atmosphere, international schools, and job opportunities.
What documents do I need to relocate to Malaysia?
You will need to obtain various documents, including a work permit, visa, and possibly a residence permit, depending on your country of residence and the purpose of your relocation.
What is the cost of living like in Malaysia for expats?
Malaysia offers an affordable cost of living compared to many other Southeast Asian countries. Certain cities, such as Kuala Lumpur, may have a slightly higher cost of living, but they also provide a vibrant expat community and amenities.
What is it like to live in Malaysia as an expat?
Living in Malaysia as an expat is generally considered to be enjoyable. The country has a welcoming environment, lively cities, direct flights to various destinations, and is known for its diverse culture and cuisine.
How can I make Malaysia my second home as an expat?
To make Malaysia your second home, you need to meet the requirements set by the Malaysian government, which may involve obtaining a long-term visa, buying property, and acclimating to the local lifestyle.
Where are some of the best places for expats to live in Malaysia?
Expats moving to Malaysia often find Kuala Lumpur, Penang, and other cities in mainland and eastern Malaysia to be desirable due to the affordable cost of living, international schools, and amenities.
What do I need to know before relocating to Malaysia?
Before relocating to Malaysia, it's crucial to understand the climate, the local language, the process of obtaining necessary documents, and the different regions and cultures within the country.